Supplies: my butterfly.abr brush file which you can get
Here
I previously made these same brushes available on my blog
Here
for PSP users, and at the time, I was just starting to learn how to use Photoshop, so I didn't make them as an .abr file for PS, but for the purpose of this tutorial, I've converted them for PS use.
I love photoshop brushes for the simple reason that the brush size limit is huge compared to paint shop pro. In PS CS2 and above, I'm pretty sure the size limit for brushes is 2,500 pixels in width and height, which is awesome for making background papers in my opinion.
Just a little piece of advice I received from fellow scrapper
Linda
on this. Make a folder in your PC somewhere named PS Brushes and store all that you download in that folder. Don't put them into the default PS folder. If you do, it will take forever for PS to load at start up. When you need a brush, just navigate to the folder you made to find them.
1. Click on your brush tool in the palette on the left and select Brush Tool.
2. In the tool bar at the top, click on the down arrow of the Brush Preset Picker.

3. This box will pop up, and click the arrow pointing to the right.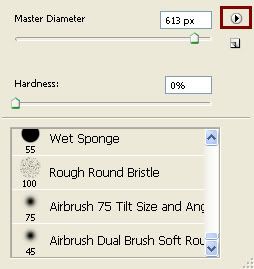 4. This next box will pop up and click on Reset Brushes.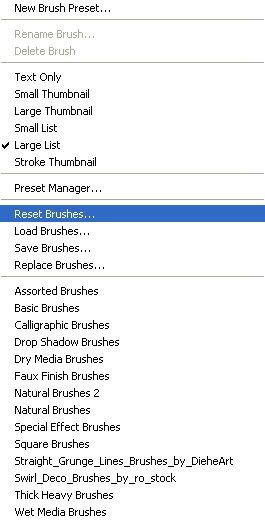 * This will reset your brushes to just having the default PS brushes showing up.
5. Next, Go back up to the Brush Preset Picker, click on the arrow pointing to the right again, and this time from the flyout choose Load Brushes.
6. Navigate to where you saved my SK Butterflies 2008.abr file, click it once to highlight it then hit the Load button.
7. Go back to the Brush Preset Picker at the top and click the down arrow.
At the end of all the brushes, you should see all 14 butterfly brushes. Just double click on one of them, open up a transparent image and try it out.